Discover more from The Lifelong Learner
Documenting my journey of lifelong learning. Practical wisdom about self-mastery, entrepreneurship, health and happiness. By South African entrepreneur and technologist Avthar Sewrathan.
🔑 Natural Leverage, Learning Lenses
Avthar's Weekly Newsletter #7 (6/12/2020)
Hello from a sunshine filled New York City!
Welcome to the edition #7 of Avthar's Weekly Newsletter. This is where I share lessons and experiences about startups, learning, health and happiness, all to help you level up your own life.
Here's what's in this week's letter:
Natural Leverage

Learning Lenses

Playing to your strengths

As well as my book highlight and flow state music of the week
Please enjoy!
---
🎥
🔑
Video I Published this week: Natural Leverage
How do you find your calling? 
This was the question I posed to renown South African artist and musician Nish Pillay. Nish was an engineer who decided to venture off the beaten path and pursue his calling for music.
Making the decision to pursue music full time was not easy for Nish, especially given the pressure of the South African Indian society to take a safe and financially secure route. However, there was a key theme which guided Nish and led him to be confident that music was his calling. I call it Natural Leverage.
What is Natural Leverage?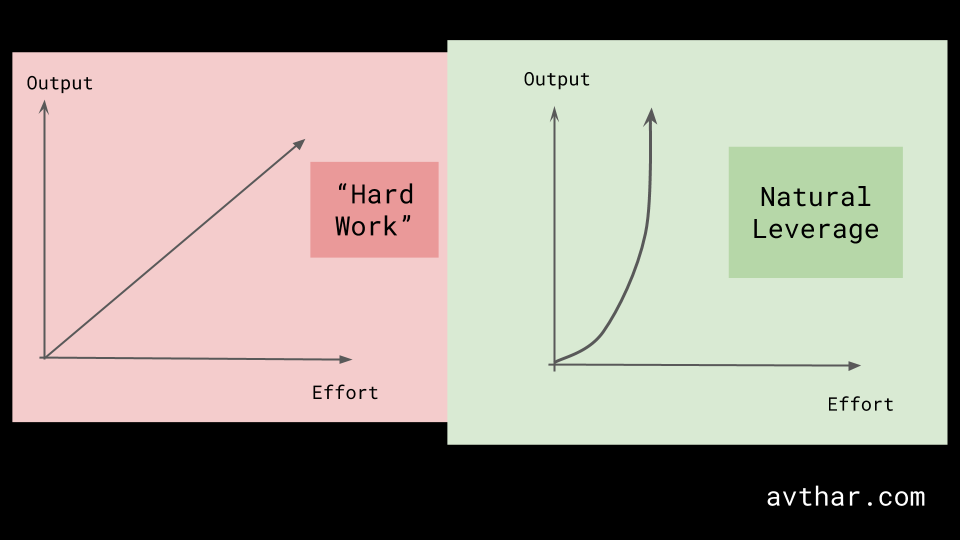 You have Natural Leverage at a skill where you produce outsized returns on your input of effort. 
Expressed in a formula, Natural Leverage is putting in X unit of effort, but getting nX units of output (where n > 1), because we are naturally suited to excel at that skill. Natural Leverage can arise due to our genetics, previous practice and exposure to related skills, and mastery of sub-components of a skill.
In most skills, the effort we put in is proportional to the output we produce. This is why hard work and practice will make you better at anything, but might not make you world class. But in skills where you have natural leverage, the effort you put in returns disproportionate output.
Nish recounts how he discovered he has Natural Leverage at music:
In other areas of my life, like bodybuilding and engineering, I would put in x units of effort and get similar levels of output. But with music, I put in very little effort, and this concept of flow happened - I went from open mics to playing on big festival stages in like a few months, not even trying. This was extremely weird at first, and then, with self awareness, reflecting back I saw that the tabla (Indian drums, an instrument Nish plays) and music was always a massive part of my life, I just hadn't realized that it was my calling.
How to find your Natural Leverage?
Areas in life where we have natural leverage often only make sense when looking back. We can find our areas of Natural Leverage by cultivating self-awareness: reflecting on our past, taking stock of the activities and areas we enjoy and how we bring value to other people.
This approach of looking back to find areas of Natural Leverage held true for both Nish and I. For Nish, it was recounting the joy he felt drumming on the doors in the highschool corridor and making music with his friends (his main accomplice is now a music producer). For me, it was arguing with my teachers and talking too much in class, which led me to gain confidence in debate, public speaking and presenting. These skills were critical to my success in school, as a startup founder, and in my work as a Developer Advocate.
We all have Natural Leverage, some of us just haven't found it yet
I encourage you to reflect on where you might have Natural Leverage in life. Find what feels like play to you, but looks like work to other people. Where are you putting in minimal effort and getting outsized returns?
For more on Natural Leverage and finding your calling, check out Nish and I discuss those topics in this short 7 min video.
---
🧠Learning Lenses
I'm a huge football fan, but there was one odd thing about me. Growing up, while most kids idolized the players, like Cristiano Ronaldo and Wayne Rooney, I idolized the football managers, like Sir Alex Ferguson, Jose Mourinho, Carlo Ancelotti, Pep Guardiola and Arsene Wenger.
I've learnt more about leading and managing teams and stakeholders from reading the autobiography of legendary Manchester United manager Sir Alex Ferguson than from the Harvard Business School cases taught in my entrepreneurship classes at Princeton.
This realization led me to the idea of Learning Lenses.
To best learn about a topic, learn about it through the lens that's most interesting to you.
For me, this was learning about leadership and managing people from football managers, rather than business books.
When exploring a topic through a Learning Lens, be sure to extract the principles. While reading Sir Alex Ferguson's autobiography about his time at Manchester United, I learned principles which transcended the domain of football, like how to deal with star performers, managing the moral of your team and reacting to defeats and setbacks.
By using a Learning Lense, instead of the traditional approach, you'll have better adherence and gain more insight. You'll have no problem finishing books, videos or articles about a topic you're interested in (for me this was football), as opposed to more dry, theoretical material (for me, this was business books).
Pick a context that makes the lessons stick. Unorthodox contexts make fresh perspectives. 
To learn something quickly and for the long term, start with what excites you.
Eventually you'll come round to what you 'need' to know.
---
📖
Kindle Highlight of the Week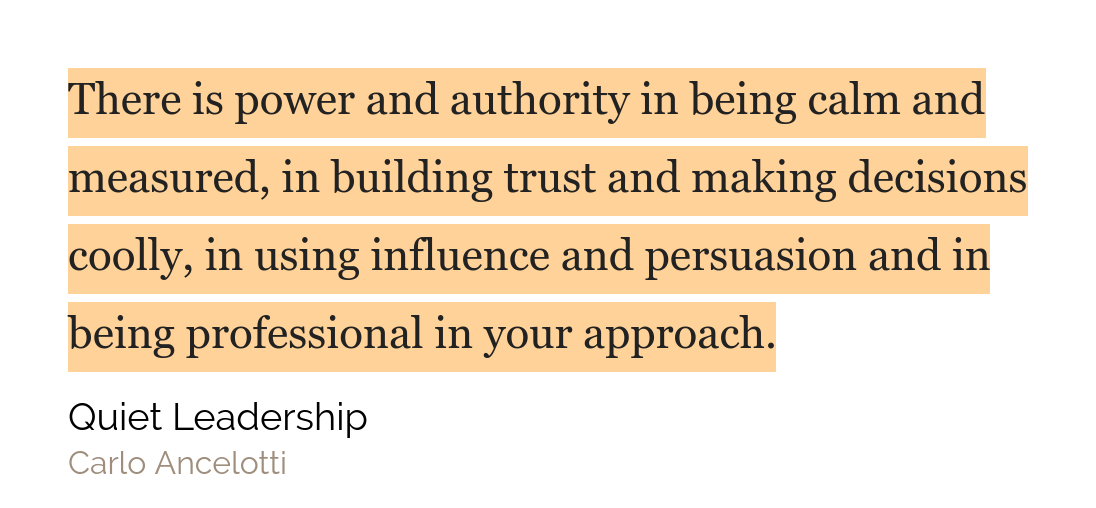 Carlo Ancelotti is one of the most successful football managers of all time.
(Kindle Highlights powered by readwise)
---
💡
Quote I'm pondering this week
"Allowing yourself to become yourself is the greatest thing you can do" - Nish Pillay
This quote is another gem from my conversation with South Africa artist and musician Nish Pillay. For more, you can watch the 3 min video that this quote comes from on Youtube (3 minute watch)
---
🌊
Music which powered my flow state this week
I played this set maybe 50 times this week while working. It's has been helpful to get into a relaxed state of flow in both writing and coding.
---
That's all for this week! 
If anything from this week's newsletter resonated with you, let me know by replying to this email or tweet me at @avthars. Or better yet, leave a comment:
You can find more of my work and writing on my online home avthar.com
If you enjoyed this week's newsletter, why not share it with one or two friends?
If you haven't already, make sure to subscribe to the newsletter. That way, you'll be first to get my latest ideas, things I'm trying out or experimenting with, as well as my reflections on life, so that it can help you in your own journey of mastery, whether you're trying to be a top performer, break bad habits, be a better learner or just be the best version of you you can be. I promise to only talk about what I know from experience, or what I'm in the process of learning.