Discover more from The Lifelong Learner
Documenting my journey of lifelong learning. Practical wisdom about self-mastery, entrepreneurship, health and happiness. By South African entrepreneur and technologist Avthar Sewrathan.
Hello from sunny New York City! 
Welcome to the edition #11 of Avthar's Weekly Email. This is where I share practical wisdom about startups, learning, health and happiness, all to help you level up your own life. There's now 144 of you in the community - thank you for your support! If you know someone who'd benefit from what I talk about, do share it with them:
What's in this week's newsletter?
Last week I shared my best takeaways from The Manual by Epictetus, a book that changed my life.
Earlier this week I was invited to give a talk, titled "Self Awareness and Entrepreneurship: How to Find Your Fit" to founders and budding entrepreneurs at Princeton University.
This week and in the coming weeks, I'll be sharing key takeaways from that talk, starting with today's topic of How to Find Your Strengths
Let me know if you find it useful. Please enjoy!
---
How to Find Your Strengths (Part 1)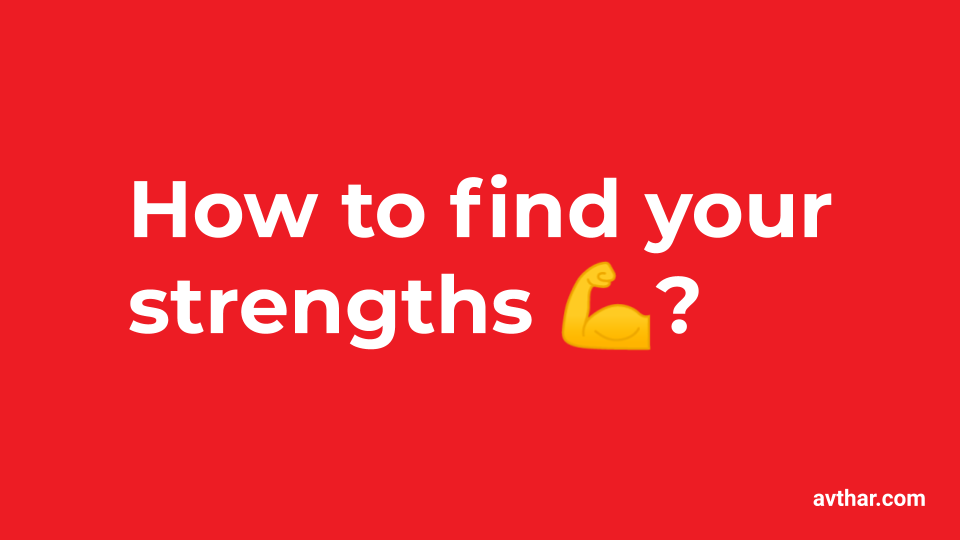 Awareness of my unique strengths and how I positively impact people is something that's helped me succeed as a student, entrepreneur and become a happier, more fulfilled person.
I want to share some frameworks that have helped me paint a more high definition picture of my strengths and skills, as well as my passions and interests.
My hope is that you use these frameworks to recognize your unique strengths and areas of natural leverage, and then redesign your life around them, thus maximizing your impact and fulfillment.
Reflection
Reflection is a powerful tool to help you uncover your true passions and strengths. It's unsurprising that many of the world's top performers (like Josh Waitzkin) and great leaders (like Marcus Aurelius) habitually reflected in writing.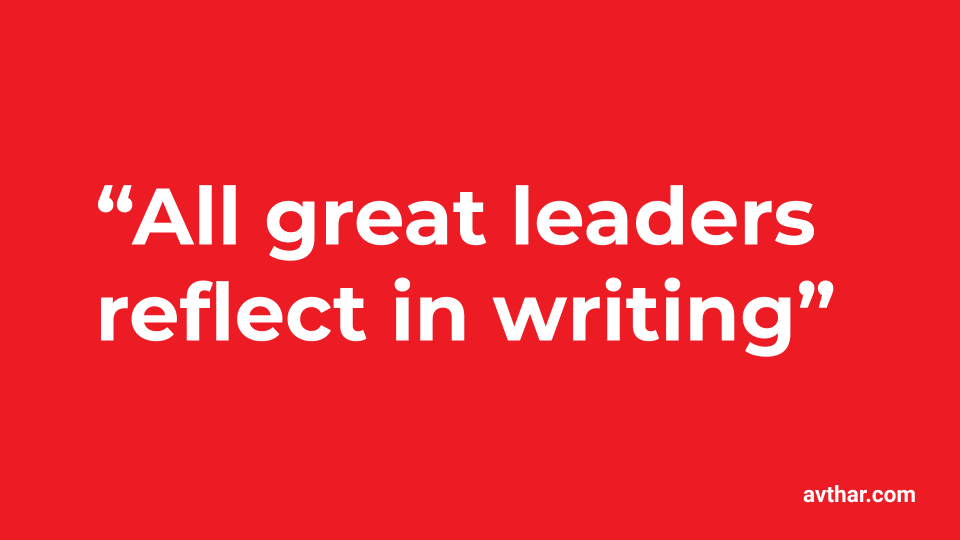 Reflect on your past to find activities and areas that you enjoyed or excelled in.

This will help you narrow down your areas to which you're naturally suited and in which you're highly skilled.
We're all so busy planning and doing that we seldom make time to reflect on our journey, our motives and how we're impacting other people. 
Reflecting and doing are like swimming and breathing. When you swim, you come up for air after every few strokes with your head down in the water. This allows you to keep on swimming with fresh air in your lungs.
Similarly, making time to periodically reflect on your life and your past experiences, gives you fresh insights and connections that you can then apply to live a more impactful and fulfilling life.
I learned the value of reflection while in high school at UWC. It was mandatory to submit reflections on our academic and extracurricular experiences at the end of every trimester. After shaking off the feeling of being 'forced' to reflect, I found that it gave me the headspace to examine the past trimester and see which projects and activities I enjoyed and excelled in, while documenting learnings about myself in the process.
---
15 Questions to Help you Find your Strengths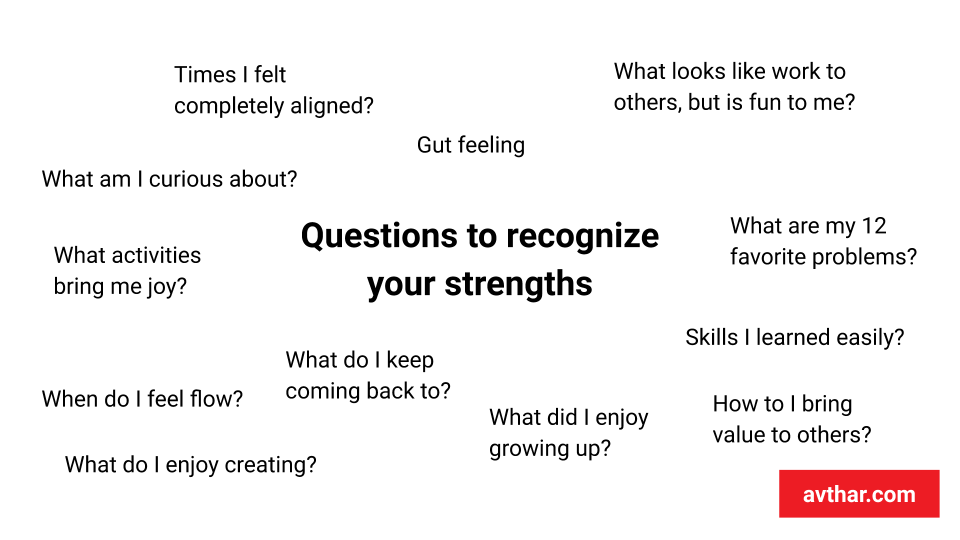 When reflecting, it helps to have guiding questions to focus your mind and structure your thoughts around. Here are some questions that I've found useful for you to meditate and reflect on, in order to recognize your strengths:
When did you feel flow?

What are you curious about?

Which activities bring you joy?

What did you enjoy growing up?

What activities feel natural to you?

What does your gut say you enjoy?

What are your 12 favorite problems?

What did you enjoy creating in the past?

When did you pick up a new skill easily?

How do you bring value to other people?

What would you work on if money wasn't an issue?

What looks like work to others, but is actually fun to you?

What areas/ activities/ categories do you keep coming back to?

What do you enjoy listening to podcasts, watching videos and/or reading books about?

What are times in your life when you've felt completely aligned with what you're doing?
Pose these questions to yourself and then write down everything your mind comes up with in response. Construct experiments around those answers to test if they are true.
Repeat the reflection exercise again (once a month, every 3-6 months or once a year) in order to see which answers keep coming up.

Patterns will emerge and will guide you toward your areas of true strength for you to further explore
Reflection will require your time and effort, but that investment reaps the returns of learning more about yourself and better understanding your core strengths.
---
Desired strengths vs Actual strengths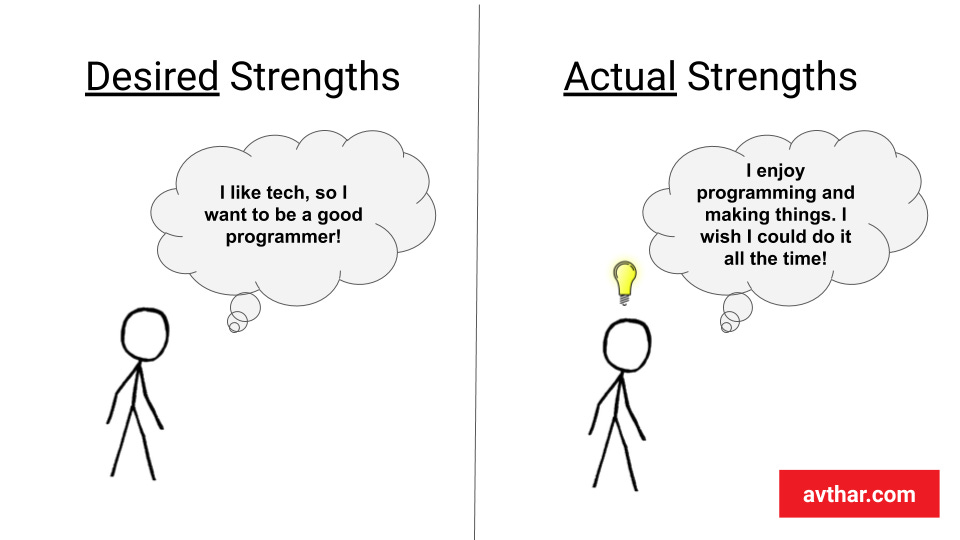 You must be disciplined to separate the things you

want to be

strengths from the things that are

actually

strengths. 
In college, I wanted to be an excellent programmer, mostly to motivate myself to get As in my computer science classes. I told myself that because I was interested in technology that programming is a core strength of mine. This was actually a desired strength, something that I wanted to be great at, but wasn't yet.
But after struggling in certain CS classes and excelling in other non-CS classes like philosophy and design, I realized that while I'm a good, competent programmer,  I'll probably never be a great programmer, despite being passionate about technology and how it can empower people. I also realized that my actual strengths lay elsewhere, in areas like speaking, teaching and writing. These were areas that felt like play to me but looked like work to others, and are areas that I did have a shot at being world class at. This distinction between my desired vs actual strengths only became clear to me through reflection. 
Reflection also helped me orient my life and career to leverage my interests and strengths. Rather than try to be the best software engineer ever, I realized the best thing was to actually combine my decent programming skills and my passion for technology with my other people-oriented strengths in order to build technology-enabled products. Looking back, my current work of being a Developer Advocate actually leverages the best of my strengths and interest in technology: I still write code, but also do lots of writing, speaking and teaching. Reflect on how you can leverage your actual strengths in your current work, so that you can further develop your strengths and maximize your impact.
---
Searching vs Recognizing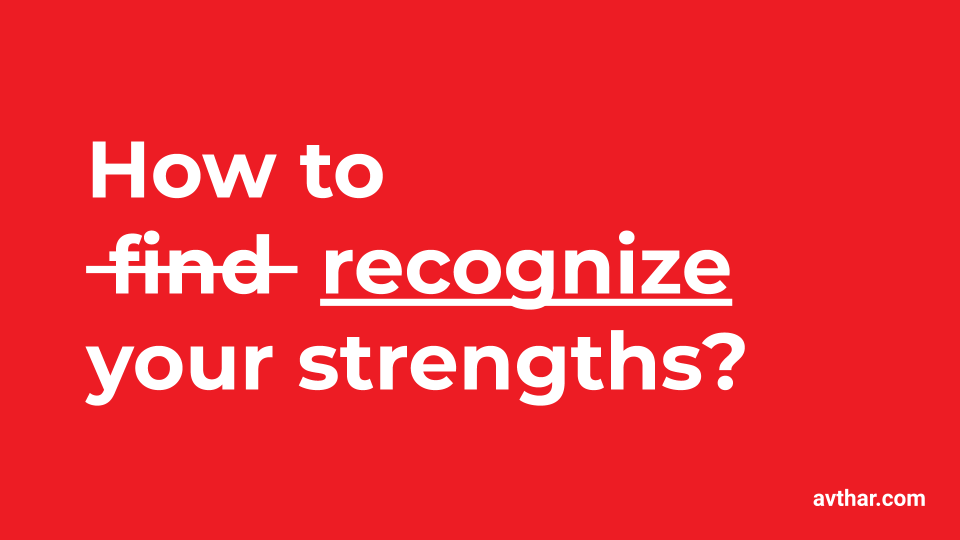 Your strengths aren't playing hide and seek with you. You're searching for your strengths and passions, but they're often hidden in plain sight. The goal of reflection is to develop an awareness of your areas of strength and passion, as well as gaining confidence to embrace them.
By reflecting, you're searching to find things that we're apparent to you in the past.
You're looking for clues about why you have the strengths you do. You're also looking for more precise vocabulary to describe things that you're already good at. For example, instead of just saying "I have people skills", you'll more precisely frame your strength as "being good in small group environments and easily connecting with people by building comfort and trust".
Beyond searching, reflection also helps you recognize your areas of natural interest and competence. It helps you look at your past activities with the benefit of hindsight in order to find things you resonated with and excelled in. As we move through different stages of life,  from school to the working world, to marriage and parenthood, we might accidentally drop our areas of passion and strength. For example, as you transition from university to the working world, you might have dropped exploring certain interests and doing certain activities in order to adapt to your busy schedule and family demands.
Reflection helps you recognize past strengths, see how they manifested in your life since then and if they still apply today.

It helps surface areas and activities which you might not have thought were a big deal at the time, but might actually be core strengths.
---
What's next?
Next week, I'll share another powerful framework for How to Find Your Strengths, one that takes in feedback from people from different areas of your life: The Reflected Best Self.
Make sure to subscribe to get it straight to your inbox:
If you enjoyed this week's letter on How to Find Your Strengths, why not share it with some friends? That way you all can develop more self awareness together!
If anything from this week's newsletter resonated with you, let me know by replying to this email or tweet me at @avthars. Or better yet, leave a comment:
You can find more of my work and writing on my online home avthar.com