Discover more from The Lifelong Learner
Documenting my journey of lifelong learning. Practical wisdom about self-mastery, entrepreneurship, health and happiness. By South African entrepreneur and technologist Avthar Sewrathan.
How to Find Your Strengths (Part 2)
Avthar's Weekly Newsletter #12 (7/17/2020)
Hello from New York City!
Welcome to the edition #12 of Avthar's Weekly Email. This is where I share practical wisdom about startups, learning, health and happiness, all to help you level up your own life.
Welcome to the 14 people who've subscribed since last week! There's now 158 of you in the community, all leveling up together.
What's in this week's newsletter?
This week I'm continuing with Part 2 of the topic "How to Find Your Strengths".
Finding your strengths requires a combination of looking inward and outward. In Part 1, we saw how you can recognize your strengths by looking inward and reflecting on your past experiences.
This week, we'll look outward and see how examining the impact you've made on people from different parts of your life can help you find your strengths.
This series is based on a talk I gave titled "Self Awareness and Entrepreneurship: How to Find Your Fit" to founders and budding entrepreneurs at Princeton University.
Let me know how you like it. Please enjoy!
---
How to Find Your Strengths (Part 2)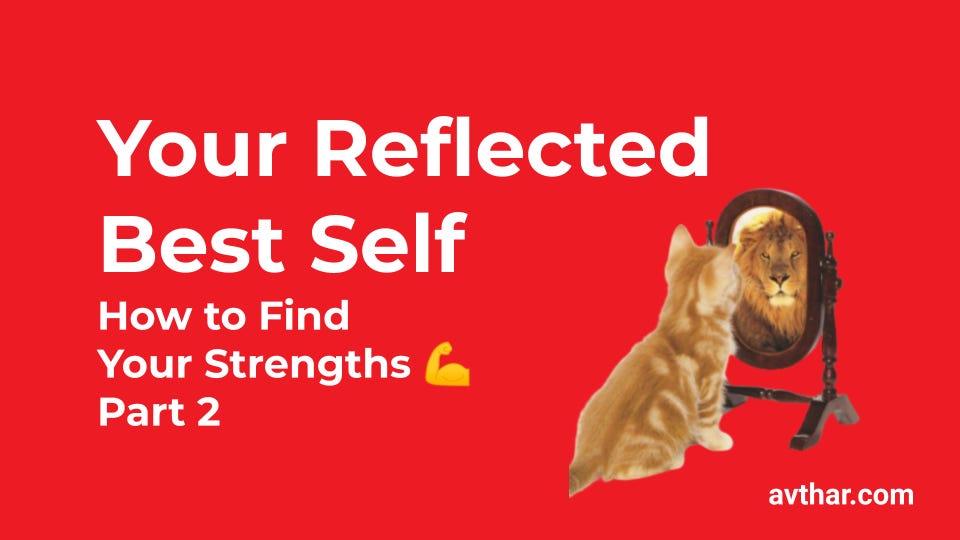 I want to introduce you to an exercise which profoundly changed my life. I first did this exercise as a 20 year old college student and it shifted the way I think about my strengths, how I do my best work and how I can add value to the world. 
It's called the Reflected Best Self (RBS).
The Reflected Best Self is a powerful exercise that gives you a 360 degree view of your strengths. During the RBS exercise, you'll look outward and collect and synthesize feedback from people who've seen you at your best in various spheres of your life, both personal and professional. 
The RBS will help you examine the impact you've made on people in different parts of your life and nudge you to redesign your life around your strengths, so that you can maximize impact and personal fulfillment. 
At the end, you'll be able to answer the question, "When am I at my best?"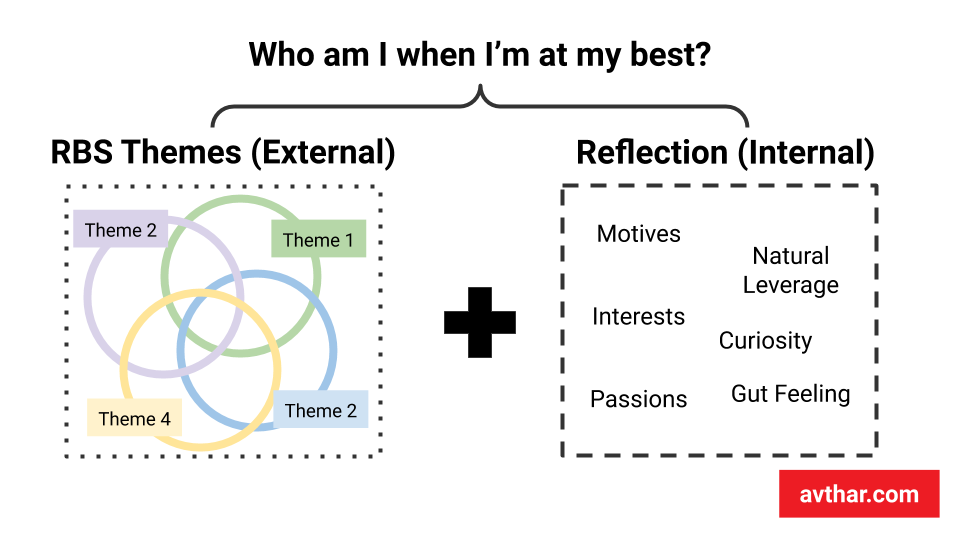 The RBS helps you double down on your strengths
We live in a society where feedback is synonymous with weakness. When we ask people for feedback on something, we expect to hear things like "You did this wrong. You're not good enough here. This is where you need to improve." 
However, we very rarely get praised on the things that we're good at. To become world class in our crafts, we must identify our areas of strength and double down on them.
The RBS will give you a 360 degree view of your strengths and who you are at your best according to people from different parts of your life. 
This RBS helps to correct the bias we have about our own strengths by providing us with feedback about how we impact people around us. Often these qualities are so natural to us that we don't consider them as strengths and perhaps don't give ourselves that recognition that we deserve for these strengths.
The RBS helps separate your Desired vs Actual Strengths
Last week a theme that resonated with many readers was the distinction between Desired vs Actual strengths.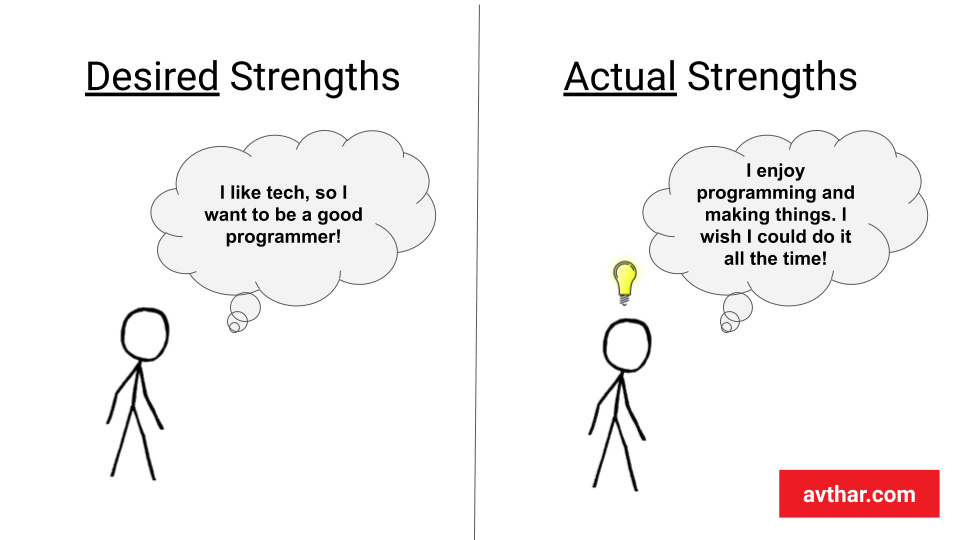 Most people look at strengths as aspirational -- "What would I like to be good at?".  This could be because of peer influence, our ego, societal pressure etc. These are Desired strengths. The RBS exercise is a helpful tool to recognize our Actual strengths because it separates actions from aspirations.
Friends, family and people we've worked closely with are actually better at telling us what we're good at because they see us in action.
By focusing on times they saw you at your best, they help us discover our actual strengths as their answers will draw on times where you've demonstrated your strengths in practice. 
Looking back at things you've actually done is a better indicator of who you are at your best than who you imagine yourself to be, or what you desire to be good at. And who better than people remind us of our best moments from different spheres in our life and help us find moments we didn't think were a big deal but were significant to them and deserve more of our attention?
How to do the RBS Exercise
List 10+ people from different parts of your life

Ask them, "When was I at my best?" and collect their responses

Look for patterns in the responses

Compose your self portrait of who you are at your best

Redesign your life around your strengths
Note: Initially, I wanted to detail how to do all 5 steps, along with resources to help you do them but the newsletter turned out to be wayyy too long.

So in an effort to not overwhelm you,  this week I'll detail how to do Step 1 and 2, which will help you get started with the exercise. Next week, I'll round up Steps 3, 4 and 5 so that you can follow along and complete the exercise.
---
RBS Step 1: Make a list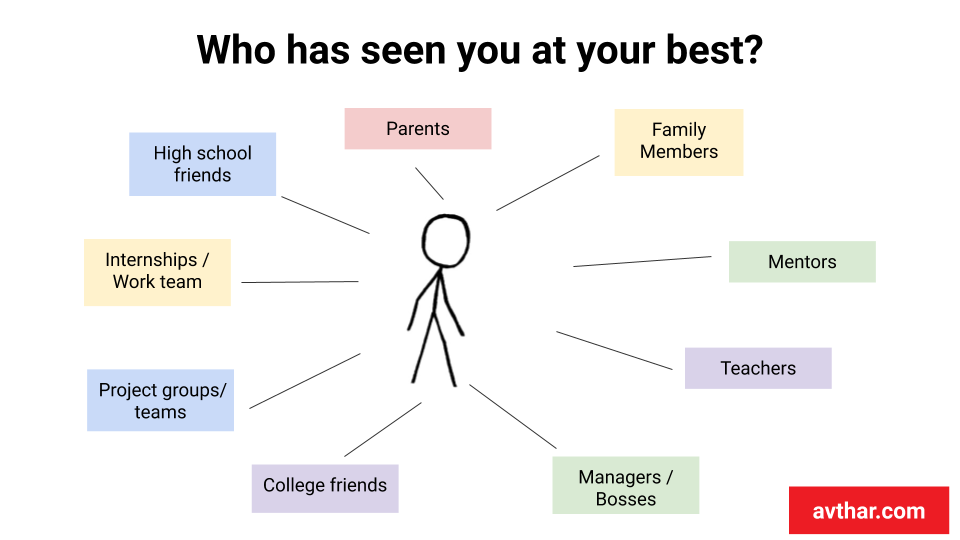 Make a list of 10+ people from different contexts in your life who have seen you at your best.
In your list aim to get as many spheres of your life where you people have interacted with you closely and have seen you work. These are the people who will give you insight into your strengths and the impact you have on people.
We all have different areas in our life where people see us at our best: parents, high school, friends, past jobs, internships, our work teammates, people that we've done group projects, college friends, your manager, boss, teachers, mentors, family members, people from clubs you've joined etc.
By gathering input from a variety of sources—family members, past and present colleagues, friends, teachers, and so on—you can develop a much broader and richer understanding of yourself than you can from a standard performance evaluation.
It's often these people (friends, family, teammates) who know what our greatest strengths are, but never had the chance to tell us.
Take for example, how entrepreneur and investor Naval Ravikant recounts how it was his mother (!) who pointed out his real strengths (he calls this specific knowledge):
"The first person to actually point out my real specific knowledge (natural strengths) was my mother...I was telling a friend of mine that I want to be an astrophysicist and she said, "No, you're going to go into business." 

She'd already observed that every time we walk down the street, I would critique the local pizza parlor on why they were selling their slices a certain way with certain toppings and why their process of ordering was this way when it should have been that way. 

So, she knew that I had more of a business curious mind, but then my obsession with science combined to create technology and technology businesses where I found myself. 

So, very often, your specific knowledge (natural strength) is observed and often observed by other people who know you well and revealed in situations rather than something that you come up with."
Write down at least 10-15 people from the areas above. Not everyone will respond, so aim for as many as possible. (For context: I've gotten 25-35 responses the last 2 times doing the RBS).
---
RBS Step 2: Collect feedback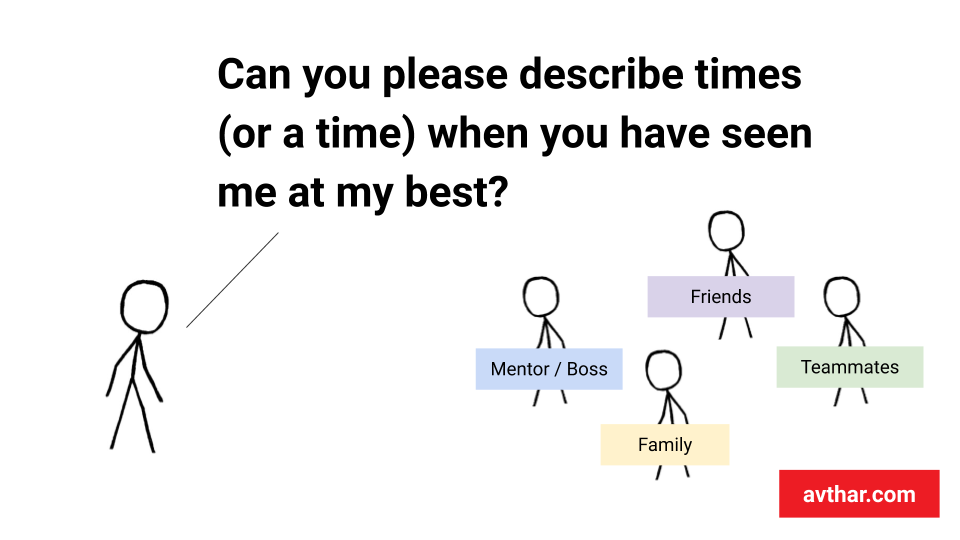 You want to ask each person on your list a simple question: "Can you please describe a time or times where you've seen me at my best"
One rule for this step: Do not change the wording. 
This question is intentionally open ended. It's designed to elicit more genuine and authentic responses than asking "what are my strengths?".
It focuses on actions and forces the responder to be specific about the context in which you demonstrated the strength in the past. It bypasses the responder's analytical filter and maneuvers around responses they think you might like in order to arrive at something more genuine and sincere.
Block off up to 2 weeks to get responses. Don't be afraid to follow up after a week to remind people to respond. 
Pro tip: The easiest way to collect responses is with a Google form like this: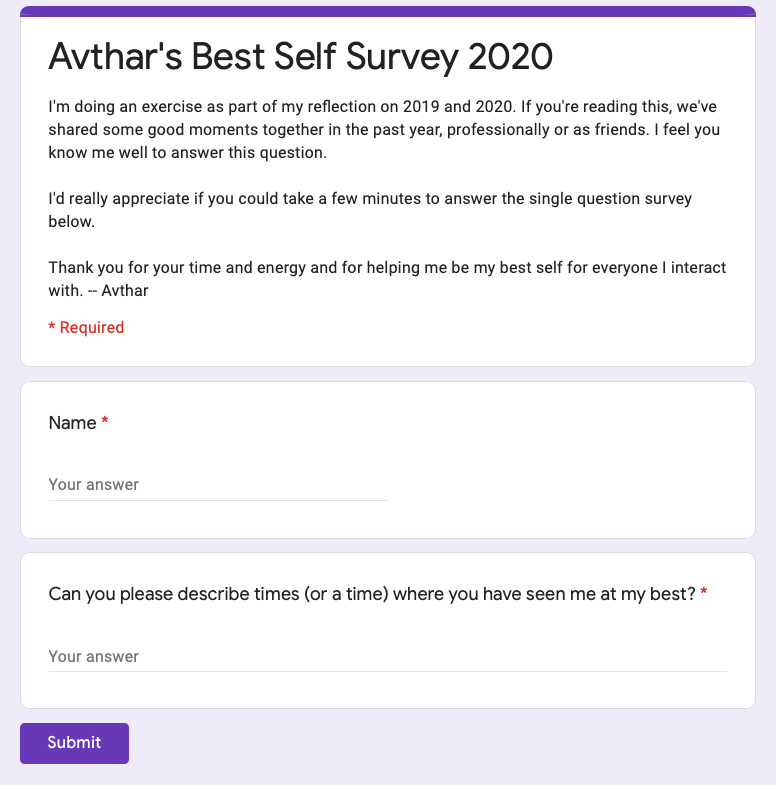 ---
Bonus Resources for RBS Step 1 and 2
Here's a template form which you can copy and modify to use as your survey form. Do change the heading to include your name and modify the form description to your taste.
📲Message Script
Here's the exact script I used to reach out to people in order to ask them to respond to the survey. You can use this verbatim or as the basis for your outreach message. I usually reached out to people in the place I talked with them, so Slack and email for co-workers, and text / Whatsapp/ Facebook for friends and family.
For colleagues/ boss / professional contexts:
For friends/ family:
---
Next week, I'll show you how to look for patterns in the responses and combine them with reflection in order to create a picture of who you are at your best.
Subscribe to ensure you don't miss it
For now, complete Step 1 and 2 and let me know if you have any questions in the comments or by replying to this email!
If you enjoyed the RBS exercise, or other emails from Avthar, why not share the newsletter with a few friends?